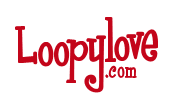 Why has dating become such a serious affair ?
Loopy love, a UK-based dating site, has managed to rise above its main challengers. The success of its services is based on 3 main points : a simple yet effective website, a growing user database and some other unusual features.
How does it work ?
A free registration is needed if you want to have a tour. You are asked to answer different questions and to fill in your profile (photo, description etc).
Why register Loopy Love ?
Loopy Love is a UK-based dating site. The site has a huge community of UK singles looking for serious or sexy relationships.
In addition to the standard fare at most dating sites (instant messaging, email, sending smiles, favorites and blocked members), Loopy love also offer the possibility to consult the website through a mobile, or cellular phone.
On each Loopy love user's profile page, there is a "Love Wall", which is similar to Facebook's Wall application. Anyone can post anything (photos, notes, etc.) on the public space allocated for such purposes.
Each user's Love Wall can host illimited messages, but each must be less than 2000 characters.
Note that Love Wall posts are not immediately added to a user's page. First they must be approved by the user whose Love Wall they belong to, and then Loopy love gives their own stamp of approval.
One more unusual featuer of the site is the "Love bomb" feature, where every week users can send the 100 people they are the most compatible with a note introducing themselves.
Finally, Loopy love allows each user to provide a list of words that describe themselves the better. Other members can easily find them via the search form.