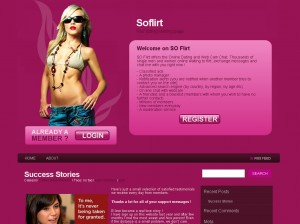 Are you looking for a free sexy wordpress template / theme ?
We worked on a sexy wordpress theme with in mind, the idea to publish and diffuse it for free. We are excited to present this theme called Pink Flirt.

Pink Flirt : a free and sexy wordpress template
SO Flirt's team is proud to provide here a free dating / sexy template for wordpress users !
We called this template Pink Flirt.
Here are a few details about this theme :
– Tested on IE, Firefox, Chrome, Opéra.
– The design can be used for dating, sexy, adult sites.
– A large header appears on the front page. You can edit the informations in oder to present your site or inastall a register form for exemple.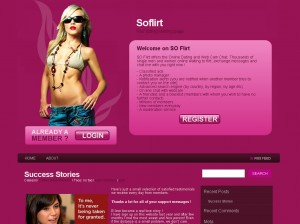 Download Pink Flirt ?
We provide this template (work) for free.
We will not ask you to let a link to our site in your footer (note that you are welcome to do it anyway !).
But we wanted to find an idea that would add some challenge in order to download the template ! And we decided to hide the link somwhere in this page ! Will you find it ? hidden